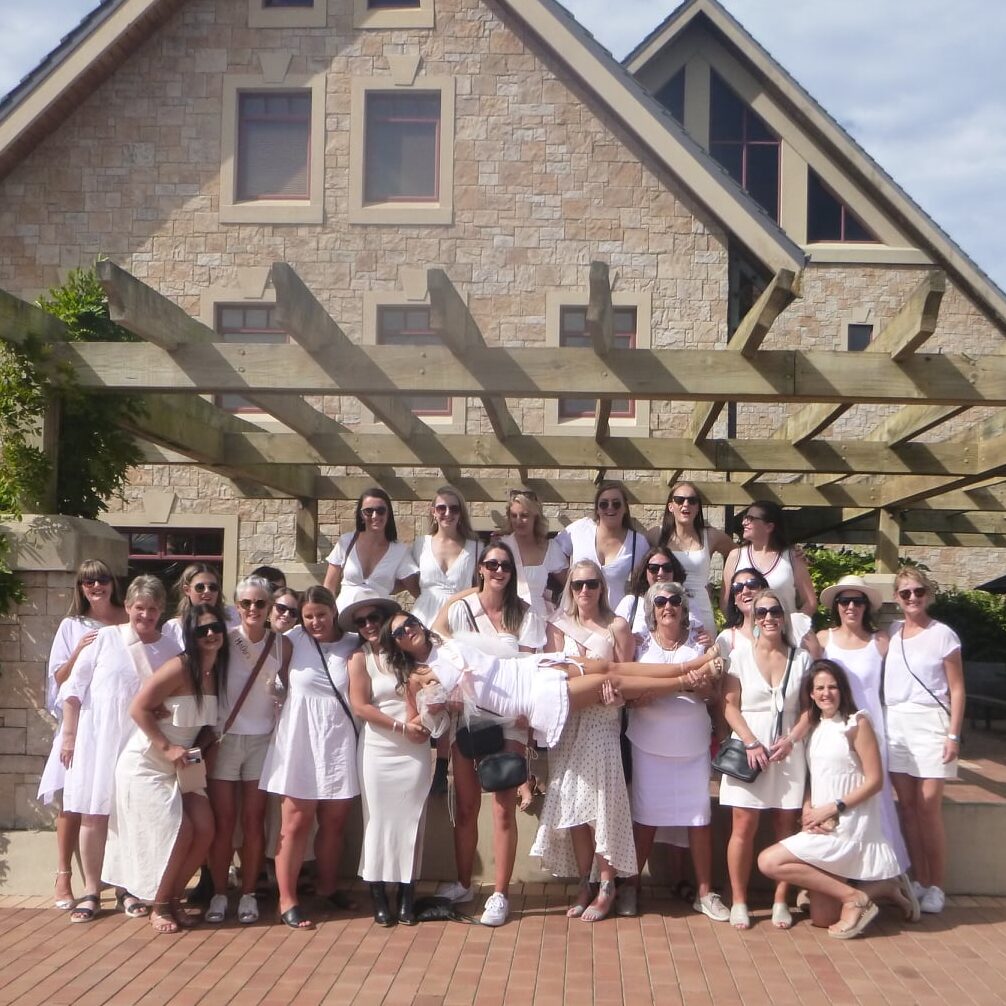 Whether it's day or night, we make sure you have the best time!
We're all about making sure your hen's party is hassle free and loads of fun, with photos to look back on!
We have a range of options or you can tailor make your own!
Day trips:
Wine tastings/bar crawl
PICK-UP – 11am/11.30am
This is a very popular choice for our hens, visiting Melton Estate first for lunch and tastings. We make the booking and you organise/pre-order the food and tastings directly.
Second stop is a south Christchurch winery for tastings. This is $10 per head which is paid to the driver on the day.
We can then head to a bar or two depending on time.
DROP-OFF – between 5pm – 5.30pm
---
Late afternoon trips:
Cocktails and platters
PICK-UP – about 4pm
This our newest option – another popular choice!
We will head to a local bar for a cocktail or drink of your choice.
Our next stop will have platters/finger food and time to play a few games if you wish. We can then head to another local bar for a boogie and drink with the possibility* of meeting up with our night party bus trips.
PRICE for this package starts at $85pp with a minimum of 20 people. (This includes your first drink/cocktail and the platters)
DROP-OFF – approx 9pm in town or your chosen location OR
*DROP-OFF – approx 11pm (If you want to carry on partying with our other buses, if they're out, this must be pre-arranged. There will be an extra charge for this.
(NB: Check out our Round the Bays trips. These are a great choice for a fab day out with the girls!)
---
Night trips:
Who doesn't love a night bar crawl!
PICK-UP – about 7.30pm (but can do earlier if requested)
We visit FOUR popular bars around the Christchurch suburbs. All our buses have poles, dance areas and great sounds. You can even bring your own music if you wish. (See below for all our bus options.)
We provide complimentary pizza at one of the bars.
PRICE from $900
DROP-OFF – 11pm-11.30pm in town or your chosen location
TIP: Why not upgrade to our most popular neon pink VIP CRUISER bus. This is a huge hit with hens' parties.
(NB: Check out our Mystery Dinner package – these can be great for hens' parties too!)
---
Meet our buses: which bus will suit you best?
Our Christchurch-Famous ORANGE Party Buses: All buses are decked out with dance areas and dance poles (TWO per bus!), loud sounds and can take up to 38 people. (Not all trips have a full bus – some of the best trips have 15-30 people.)
Orange 25-Seater Bus: Decked out with dance poles and dance area and great sounds.
Lincoln Bus: our 45-seater orange bus. This does not have a dance area or dance poles but a banging sound system with a cool-as driver!
Rock up in style! Christchurch's only VIP Cruiser Bus that holds up to 40 people. This bus is one big dance area, with four dance poles, disco lighting, massive sounds and is "Bright Pink" in colour.
Big Blue: our 48-seater blue bus is also available. No dance poles but has a sound system better than mum's Corolla.
Are you really popular? Got a big group? Choose the Double Decker Bus! This big beauty seats up to 60 people.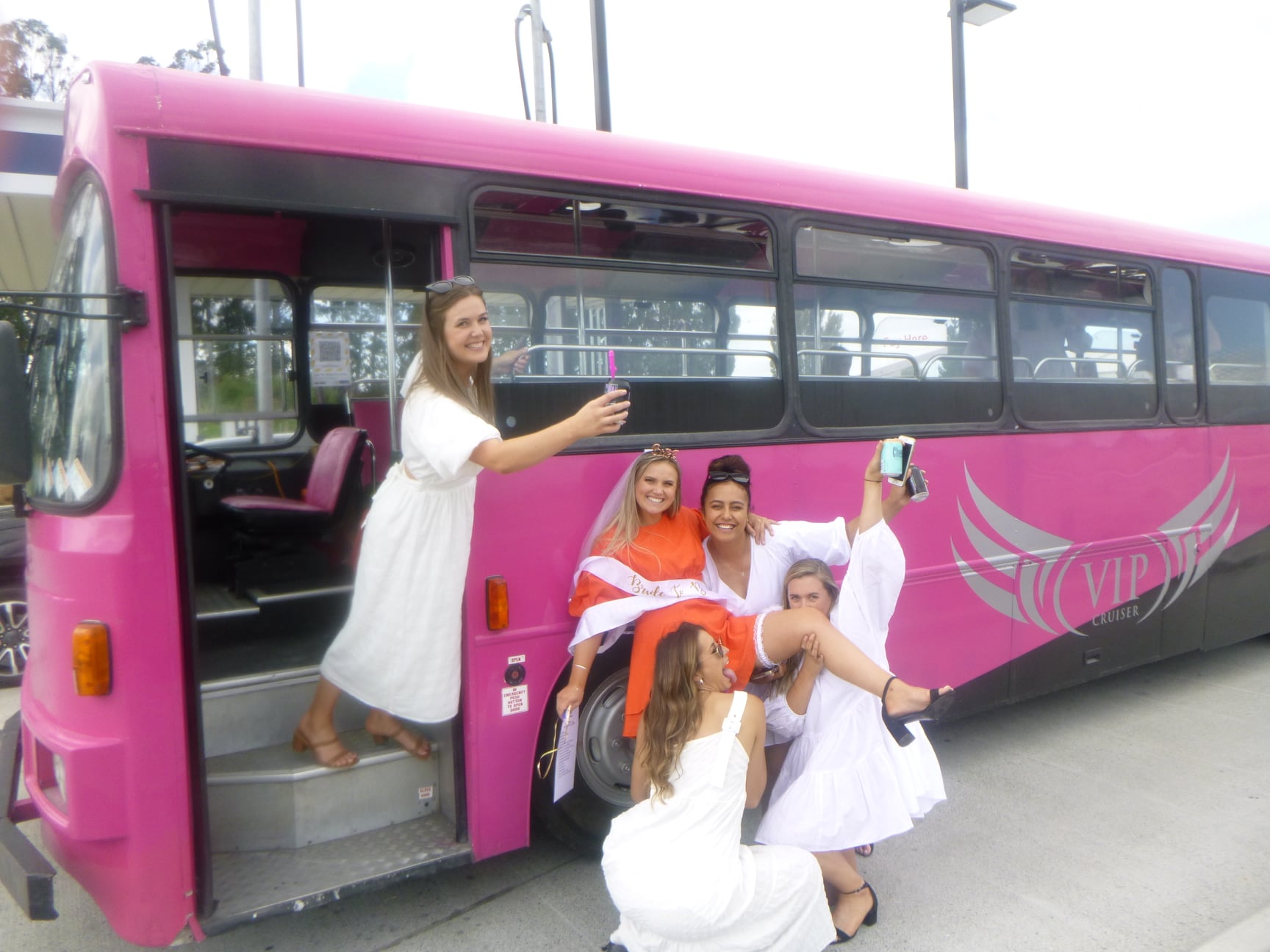 ---
Sound awesome? Here's a little more info:
A non-refundable deposit of $150 locks your party bus in for you and your crew!
Deposits are due the day you book with us to confirm your booking.
Deposits are non refundable, but if you re-book your trip with us within three months of your original date you're welcome to use the deposit for that booking.
---
FAQs:
YES, we pickup in Kaiapoi, Rangiora, Rolleston and Lincoln. (There is a charge of $100 extra each way – unless we're travelling out that way.)
NO under-18s allowed
YES, you need identification for proof of age
YES, you can dress up! Please do!
YES, you can bring a playlist! (Some buses have Bluetooth capability but all are set up for aux cord or USB!)
YES, we can drop off near town
Bookings are recommended at least 4-6 weeks out
We operate these tours on Saturdays (Sundays are available for an extra charge)
We may be able to apply for a liquor licence for these trips – but we need at least 30 days notice and the cost is $150 on top of bus hire. There are terms and conditions for these licences.
---
Time to book your Party Bus!
One last thing…
Did you know we also do day pub crawls, night bar crawls, wine tours, mystery dinners and transfers – including school balls.
Charlie's Party Bus also does charter transport and operates around the greater Christchurch area. We also take overnight trips to Hanmer and day trips for stag dos – which can include clay bird shooting.
For more information or to book get in touch anytime – except Friday and Saturday nights… because we're busy partying!!
Let's connect!
Call: 0800 744 383 (Monday-Friday 9am-5pm)
Text: 0272 046 942 (anytime!)
Email: [email protected]